As I said in my last post, we were a little disappointed that we were leaving Lorella Springs after only 2 nights but we were keen to get to Lawn Hill and also introduce Harold and Di to probably our most favourite camp spot in Australia. Yup; I know that is a big call but I will stand by it. So on Friday the 9th of September we headed for Borroloola via Cape Crawford and the famous Heartbreak Hotel. It got its name when the owner had a party with his newly-married wife, and then she ran off with a ringer. We arrived at Cape Crawford (no it's not on the coast) around lunch time and after a pleasant lunch on the grass and being entertained by a family of apostle birds, we continued on for Borroloola, dropping in to Caranbirini Conservation Reserve about 70 km up the road. From our chats with other travellers, anecdotally it seems that not many people drop into this Conservation Reserve. Perhaps because it is not called a National Park, folk may consider it not deserving of a visit, but Chris and I had visited it before and new that Harold and Di would love it. And they did!
After doing the fabulous 5 km loop walk we were soon on our way again. We arrived at the only camp ground in Borroloola with little left of the day other than to set up camp and prepare dinner. The following day we did some shopping and continued on our way, conscious of the fact that we were now on the down hill run to home (Melbourne) and needed to be there by about the 1st of October, give or take a day or two. The days were starting to slip away very quickly and we still had plans to visit Boulia, Bedourie, Birdsville and Innamincka. The attractions such as King Ash Bay, around Borroloola would have to wait for another day. So after stocking up and refuelling we travelled most of the day and that evening free camped about 20 km short of Hell's Gate. The following morning we stopped at Hell's Gate and met the new owners. Hell's Gate is now open once more and the new owner has some fabulous plans and is a great bloke. Sat down and chatted with us for an hour or so.  So if travelling by this way we urge you to drop in and support his undertaking. He has developed a very nice camp ground deserving of support. We felt guilty that we free camped just down the road but when we last visited in 2010 the roadhouse was closed and so was not expecting very much. Feeling a little guilty we decided we should at least buy some fuel which we did. So after chatting we pushed on. We were considering heading into King Fisher Camp on Bowthorn Station then continuing on to Lawn Hill, but found out at Hell's Gate that King Fisher Camp was now closed. So that made our decision whether or not to head for Bourketown an easy one. Chris and I had been to Bourketown on previous trips a couple of times and where ambivalent on visiting once again. Harold and Di understandably wanted to at least say they have been to Bourketown situated on the Gulf of Carpentaria as it is. After an interesting drive through Doomadgee (an aboriginal community), which appears now to be much more orientated to tourist trade than we have experienced previously, we arrived in Bourketown in time for lunch which we prepared ourselves in the local park. It was now Sunday and like I have mentioned before, these outback towns are virtually closed on Sundays. I think we saw one other person. We were able to get fuel however from the 24 hr self service station. A quick wander around Bourketown, it didn't take long, then headed for Gregory Downs and our most favourite camp spot on the Gregory River. As before when heading for Mermaid Dreaming near Roper Bar, I was concerned that some action may have been taken by local land owners to prevent us from using the track into were we were wanting to go. Most people, that head to Lawn Hill are aware of the camping area at the river crossing at Gregory Downs, but seem unaware of the fabulous camp spots that are also available some distance from the township. Well our luck was holding out, we stopped briefly at Gregory Downs and then continued on to our favourite camp spot to find it completely void of other campers, so we set up camp on the banks of the Gregory River. We stayed for 3 nights and chilled out, read, walked and generally enjoyed the fauna. Each day wallabies would come down to drink directly in from of our camp on the opposite side of the river only about 30 m from where we were camped. We did not see another vehicle for the entire 3 days. We would have loved to stay longer if time was not an issue but we had lots still to see and do. Along with the wallabies we were visited each day by Paperbark Flycatchers and many other birds. The river was crystal clear, a fabulous temperature and great for swimming. When hot we would go upstream a hundred yards or so, jump in and let the current take us back to our camp.
After 3 wonderful days on the Gregory, we headed for Lawn Hill (Boodjamulla) NP. It was now the 14th of September, just over 2 weeks left before we were to be back in Melbourne. We decided to stay in Adele's Grove which is a privately run camp ground about 9 km from Lawn Hill NP itself. This is preferable to the camp ground in the park itself, for 2 reasons, you don't have to book ahead "online" only and there is plenty of shade. As the days were now very warm, some shade was a great relief from the heat. The only down side to this plan was the lack of sun for our solar panels. The drive from our camp on the Gregory river to Adele's Grove was only about 100 km so we arrived in time for lunch after setting up camp. We headed for the park to do a couple of small easy walks that Chris and I had done on previous visits to the park. It was all going too good, our luck couldn't last. The walks that we wanted to do were closed due to a pontoon bridge being completely wrecked 2 wet seasons prior. The repairs were supposed to have been completed May 2016 but it did not appear that they would be complete any time soon.  We thought that was pretty poor form and it is apparently something to do with the QLD state government. So instead of doing the walks we had a general nose around and took in the information shelter info, had a swim, then back to Adele's Grove for a beer and dinner.
The following morning we got going early, well at least early for us, and headed back to the Park to hire canoes for a paddle up the gorge. If visiting Lawn Hill, doing the canoe trip up the gorge is an absolute must. At the end of the gorge we took the opportunity to have a wonderful swim then returned in time for lunch. In the afternoon Di, Chris and I did the circuit walk to Indarri Falls, including another swim. That done we headed back to Adele's Grove, a drink in the bar and then dinner in the Restaurant. Despite the closure of some of the walks, we thoroughly enjoyed our 2 days at Lawn Hill/Adele's Grove. We set off the next morning to visit
Riversleigh
which is a world heritage site that is part of Lawn Hill National park. Briefly, Riversleigh is an area that has enormous deposits of mammal fossils from the Oligocene and Miocene ages and is apparently unique in the world for many reasons. The public only has access to a very small area but it was a very interesting experience. To top off the experience a visit to the Riversleigh Fossil Centre at the Information Office in Mount Isa is a must (and do the guided tour) - brilliant! From Reversleigh we headed straight to Mount Isa under threatening skies. We camped on a tributary of the Leichhardt  River at Sunset Top Tourist Park. The next day we did the mandatory look around the Isa and did some shopping. We were hopeful of a swim in Lake Moondarra but it was not very inviting. We ended our tourist day at the town lookout and watched as some weather came in across the mines.  The wind and dust that we could see raised in the distance concerned me a little so Chris and I made a beeline for our camp ground to make sure the awning on our camper was still in one piece. When we arrived it was a mess. More fool me for not securing it properly in the first place. It looked disastrous but we eventually got it back together with only a small amount of damage, but it is likely that we will have to get the awning material replaced. That night the skies opened up with about 35 mm of rain.  Mud under foot and a rising river the following morning that looked very threatening. We decided to pack up and get on our way as soon as possible. To top it off, amongst the turmoil of rain and wind damage, some young creep got into my car and stole my phone. Checking the road reports for QLD and SA we were not surprised to find that all dirt roads south of us were closed. And in fact there was some thought that a number of sealed roads would also be closed. Western QLD, western NSW and the northern part of SA had had considerable rainfall, plus. So our original plans were put asunder and it looks like we would be on sealed roads for our journey home. Well no use paining over something out of your control, we would just have to make the best of it. So we headed east to Cloncurry then down to McKinlay, camping the night behind Mick Dundee's Walkabout Creek Hotel. Another sodden camp site as the rain from the previous night had been very wide spread. Dinner in the Pub that night then next day onto Winton, Kynuna and finally ending up in Longreach. We would have spent some time in Winton but the Matilda Centre had recently burnt down, the road to Lark Quarry was closed, and the Bladensburg National Park was closed, both due to rain. The whole of the Longreach Tourist Park first glance looked like one huge puddle. We carefully eked out two camp spots amongst the inundation, dug some moats around our camps, and settled in for a couple of nights. Well wouldn't you know it, it rained again that night, but our hydrology techniques seemed to work a treat. I spent most of the next day working on my blog while Harold and Di visited the sights, namely the Stockaman's Hall of Fame and the Qantas Museum. From Longreach we headed east to Barcaldine and then south to Blackall were we camped for the night. The Barcoo River at Blackall was still on the rise and made a very impressive sight. Before heading out the following morning we checked out the historic Wool Scour (well worth the visit, it is beautifully restored by local volunteers), did the tour then headed for Charleville. There was some concern that we would eventually be stopped by rising flood waters which would mean either being stuck for a few days or we may have to retrace our steps. Click on thumb to view gallery.
The next day we travelled all day, ending up in Goolgowi, about 60 km south of Hillston, a fabulous council Camp Ground, but once again sodden. With some difficulty we found a couple of reasonably dry sites together, rushed to the Ex Serviceman's Club and watched the last quarter of the footy grand final, returned to camp for a shower and then back to the club for dinner. We were targeting arriving home in Melbourne on Monday the 3rd of October, preferably mid morning. That way our house sitter had the weekend to vacate the house and with the need to split the food etc that we had bought collectively over the past 4 months between us, and also sort out other items that migrated from one camper to the other, we propped in Seymour in what would be a wonderful Camp Ground in dryer weather on the banks of the Goulburn River. With that we were up in the morning bright and early, said our good-byes and thanked each other for their wonderful company over the past 4 months plus 17,000 km and headed for home.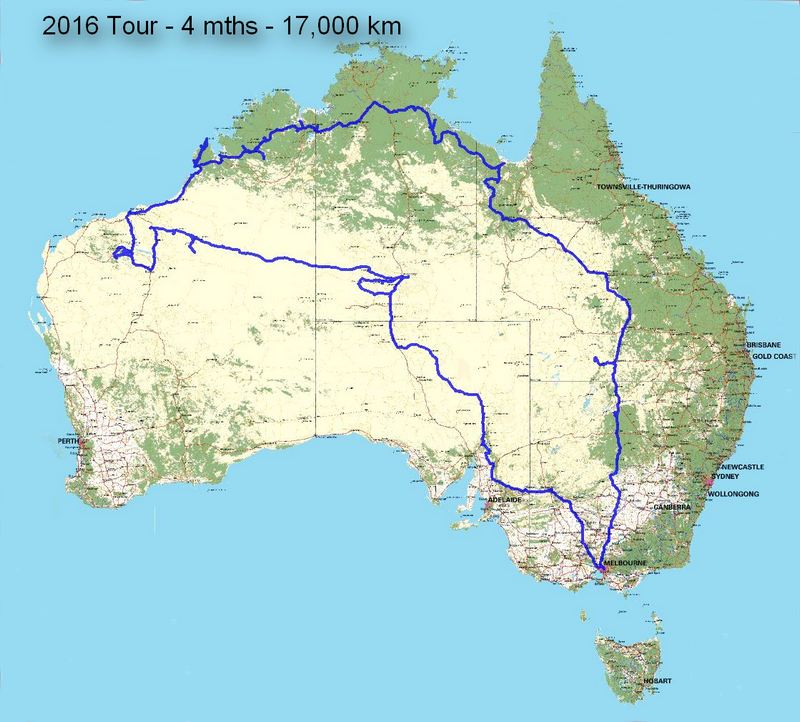 PS - Sorry about the size of this last post of our 2016 Tour but I could not really figure out where to split it, and in any case it would have made two very short posts.