Fully refreshed from a fabulous shower the previous day at Kunawaritji, we set off to travel the Gary Junction Road to Alice Springs on Tuesday the 13th June.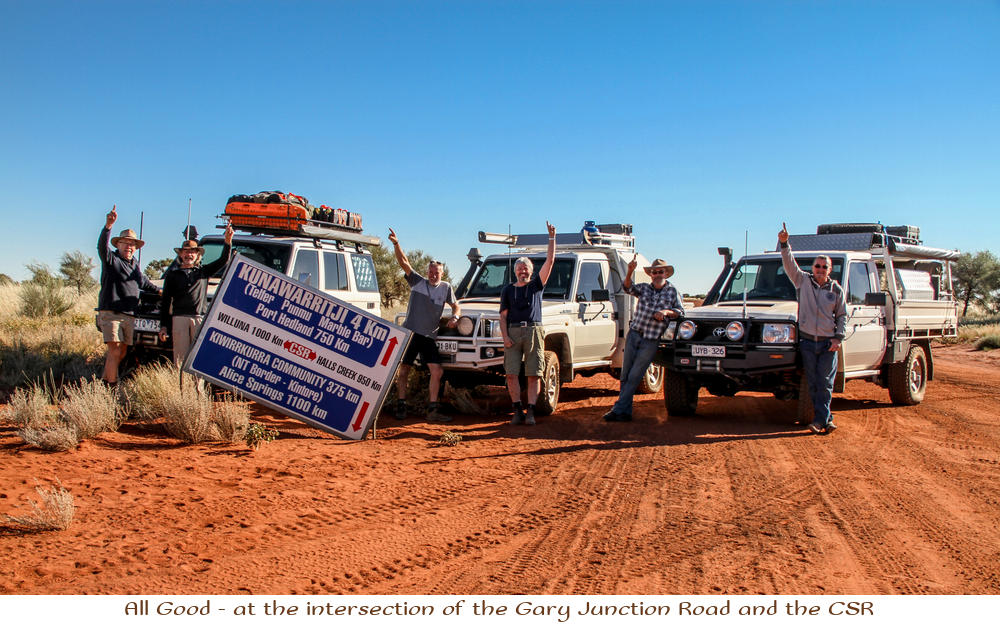 Stopping for a last group photo as we leave the Bottom half of the Canning Stock Route for another day. One concern that we faced was the lack of permits to travel the Gary Junction Road that passes close to and through a number of Aboriginal communities. Although Chris and I along with our friends Harold and Di travelled this road in 2016 (East to West) and were never asked to produce our permits but it was still a concern. However we were sure that there would not have been any issues as it could be regarded as an emergency detour from our original plans. The road was in fairly good condition and so we made good time. This is a dirt road but formed and maintained, at least on the WA side of the border. The NT side of the border is terrible compared to when Chris and I travelled the road last year. We dropped into Jupiter well and also tracked down some
Len Beadell
markers.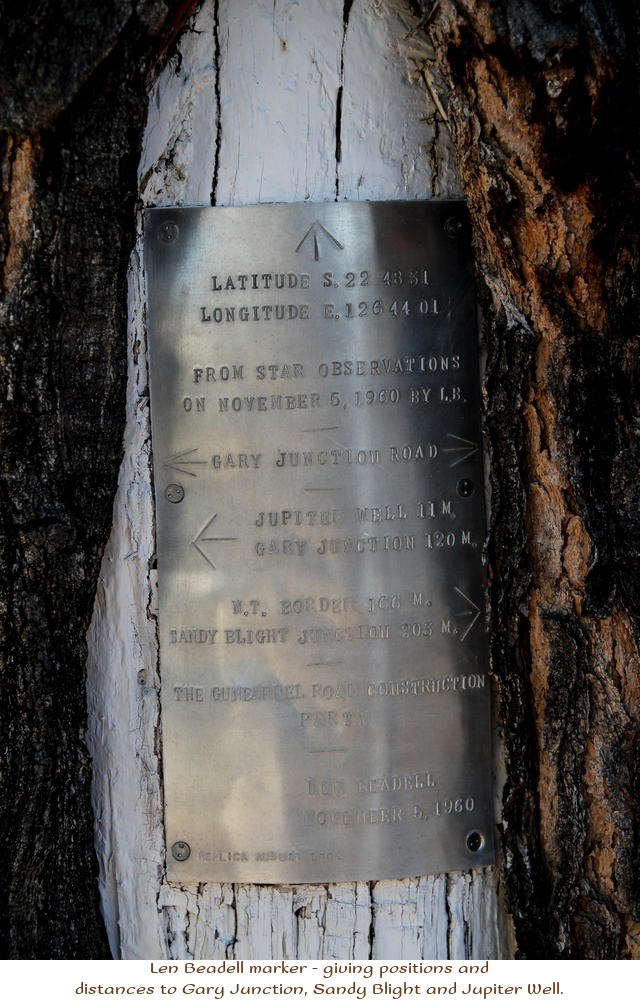 It really is worth checking out the history of Len Beadell. An amazing man who has written a number of very enjoyable books. He made, with his team, 6000 km of outback roads that opened up 2.5 Mill Square Kilometres of isolated desert areas. Our first night crossing the Gary Junction Road (Otherwise know as the Kiwirrkurra Road) we camped about 30 km short of Kiwirrkurra. The next morning we headed into Kiwirrkurra went straight to the Community Offices to fess up that we did not have permits and to arrange for some. Everybody was in a meeting and would not be available all day so we gave up on the idea of permits and headed to the store to see if we could find someone to tell us where Len Beadell's burnt out ration truck had been moved to. Originally it was situated about 700 km west of Alice Springs. The owners of the truck, the Kiwirrkurra Community, wished to have it moved 30 km to their community to be preserved and to be used as a tourist point. The Toyota Landcruiser Club VIC undertook the task of moving the truck.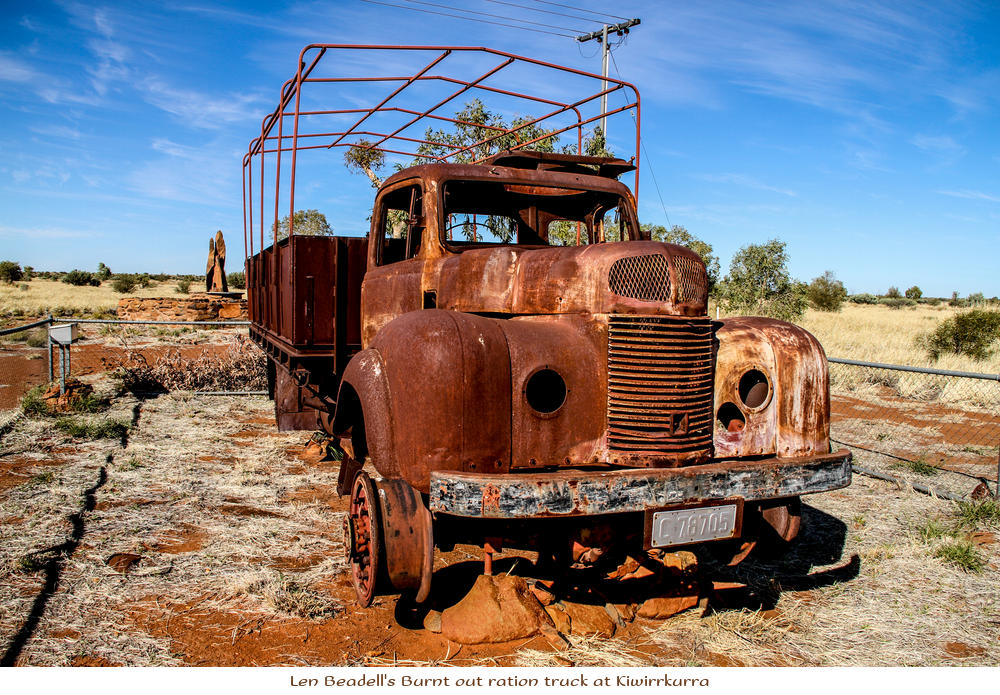 Heading east we were soon crossing the WA/NT border (another Len Beadell Marker). The road on the NT side of the border was a disgrace, considering the number of communities that the road services. After camping off to the roadside and experiencing another perfect desert sunset we dropped into Papunya for some fuel. Fuel on the NT side of the border is much cheaper than in WA.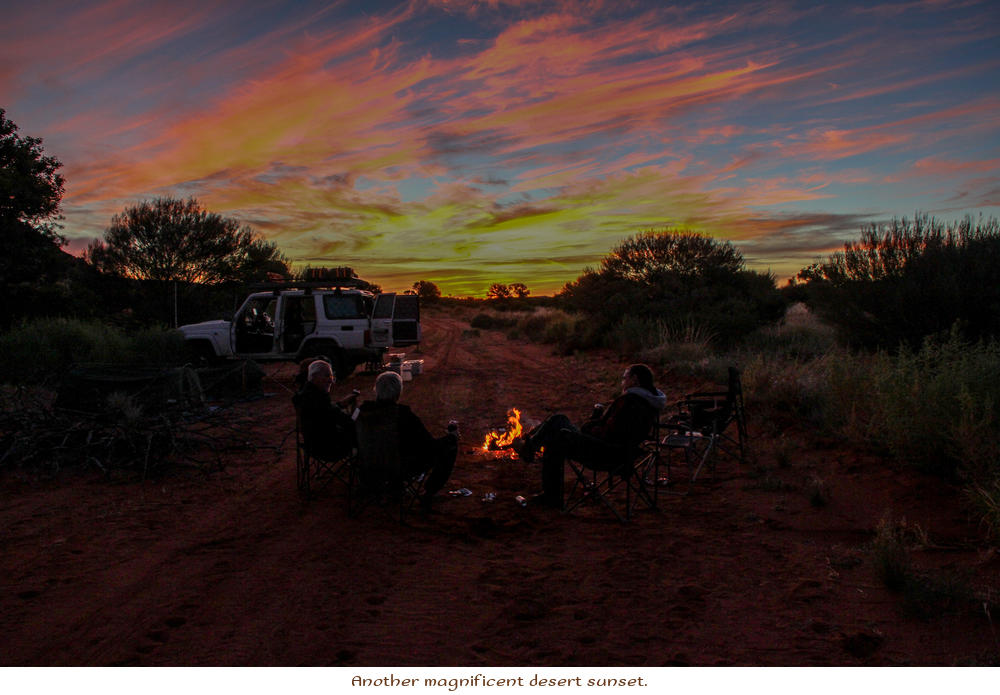 After topping up with fuel we continued to head west another 16 km where we turned south towards Haasts Bluff. This is a particularly picturesque area as you drive past the Belt Range and Amunurunga Range. Haasts Bluff itself is very impressive.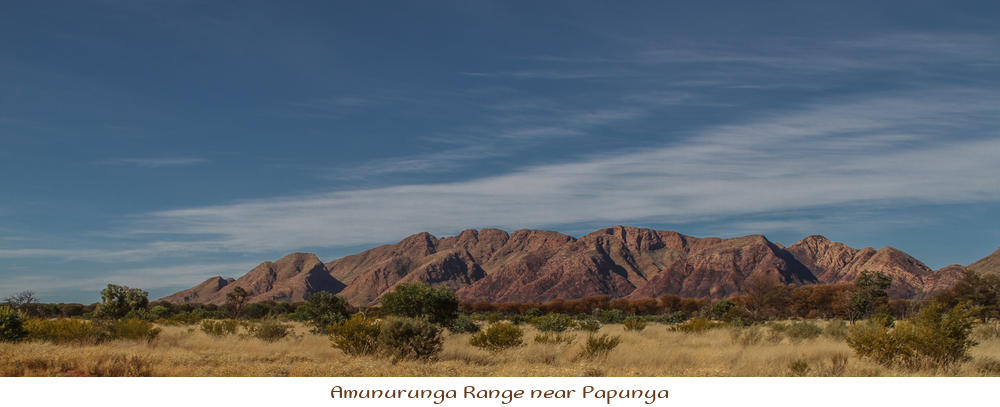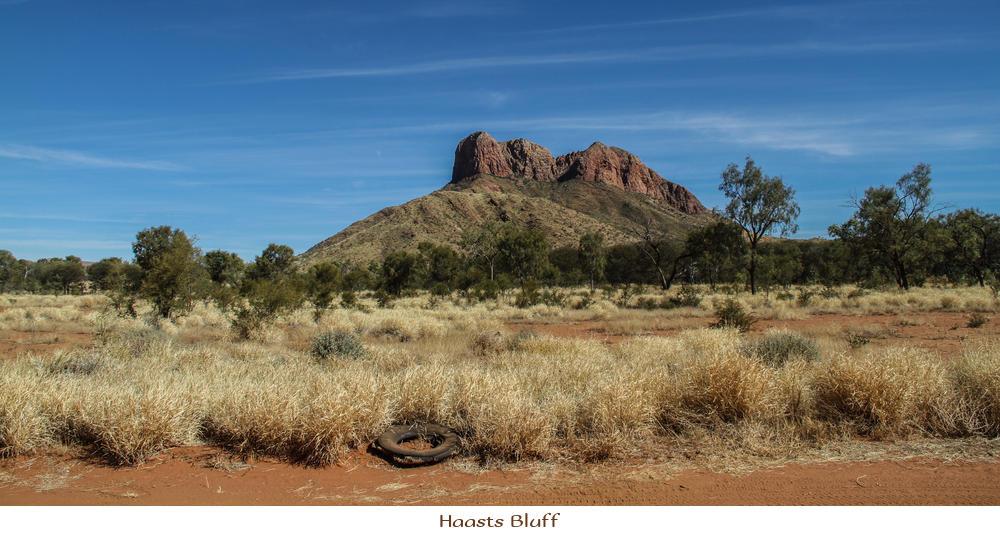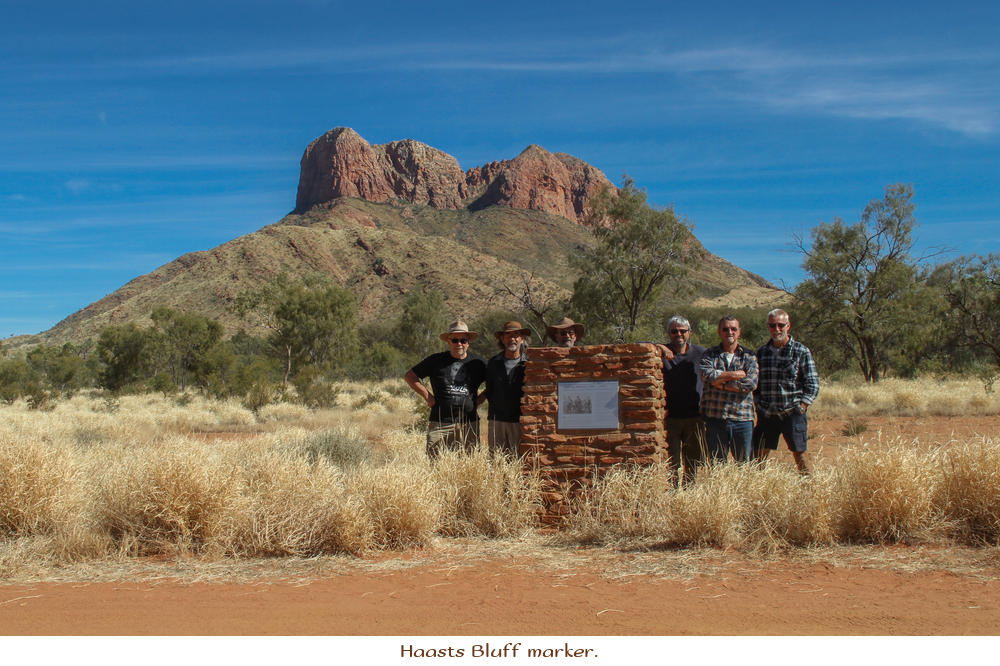 After stopping for lunch at Haasts Bluff marker we headed straight to Alice Springs. Cesare (our Italian adventurer nicknamed Skywatcher) had booked himself on a Greyhound bus back to Adelaide the following morning and so at the turn off to our Campground we stopped and said our good-byes. It was somewhat of an emotional parting as none of us except Clarkey had ever met the Lawyer from Italy and he certainly endeared himself to all of us. He was fabulous company and we were all a little sad to see him go. In fact a number of us had never met each other prior to this trip, which is always a risk, but it all worked very well. All 6 guys got on fantastically. So we set up camp in the Wanngardi Camp Ground about 15 km out of town.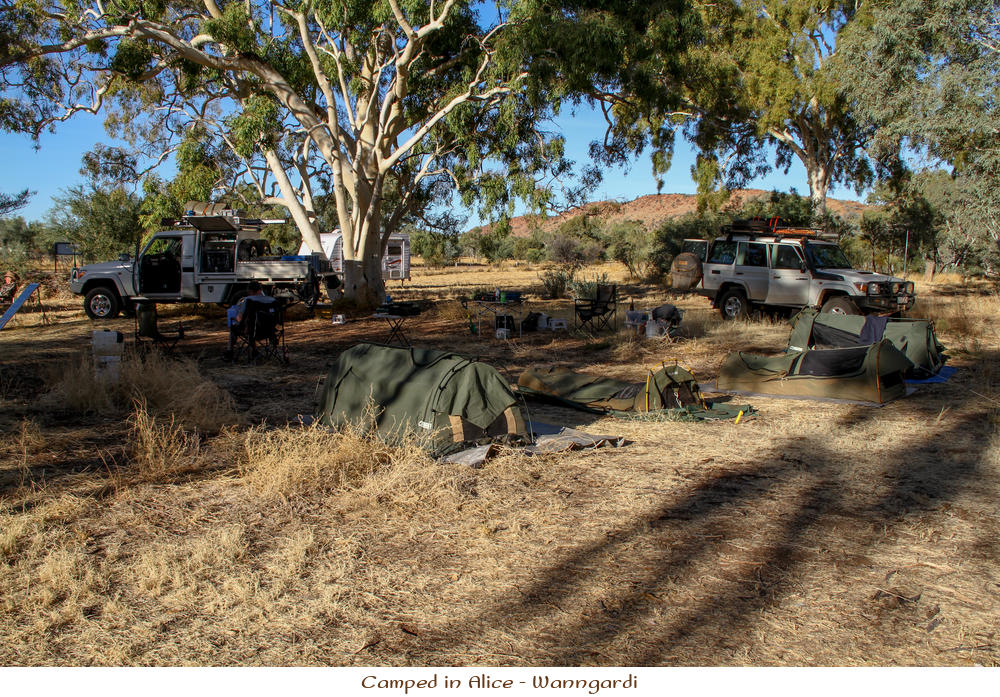 We stayed at Wanngardi for a couple of nights to give us time to wash clothes at the local laundromat, get a few supplies and have some decent coffees in the Todd St Mall . Late on the second morning we headed west to visit Palm Valley. A quick walk in the afternoon and an interesting evening around the camp fire with some of the other campers. We were all glad that we weren't travelling with the likes of a couple of them. We decided to break camp first thing the following morning and head for the East MacDonnell ranges. The attraction was to visit the o
ld pub at Ross River
 Resort
and the abandoned historic mining town of
Arltunga
. Check the links for more info.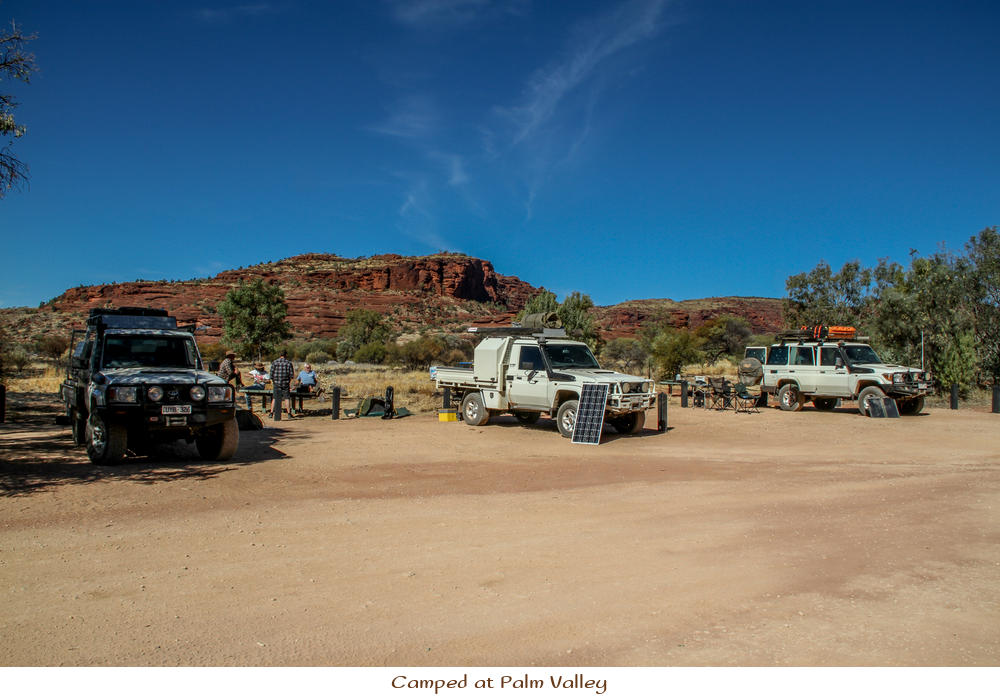 A short video, travelling through the very picturesque Palm Valley. Arltunga is a very interesting area and a stark reminder of the hardships that people endured to eke out a living in very remote areas. Alluvial gold was discovered here around 1887. To reach Arltunga people would walk or ride alongside the Overland Telegraph Line from Oodnadatta in South Australia to Alice Springs, then head east along the East MacDonnell Ranges for another 120 km. Often walking in summer temperatures more than 40ºc. A gallery of images from Arltunga ruins:-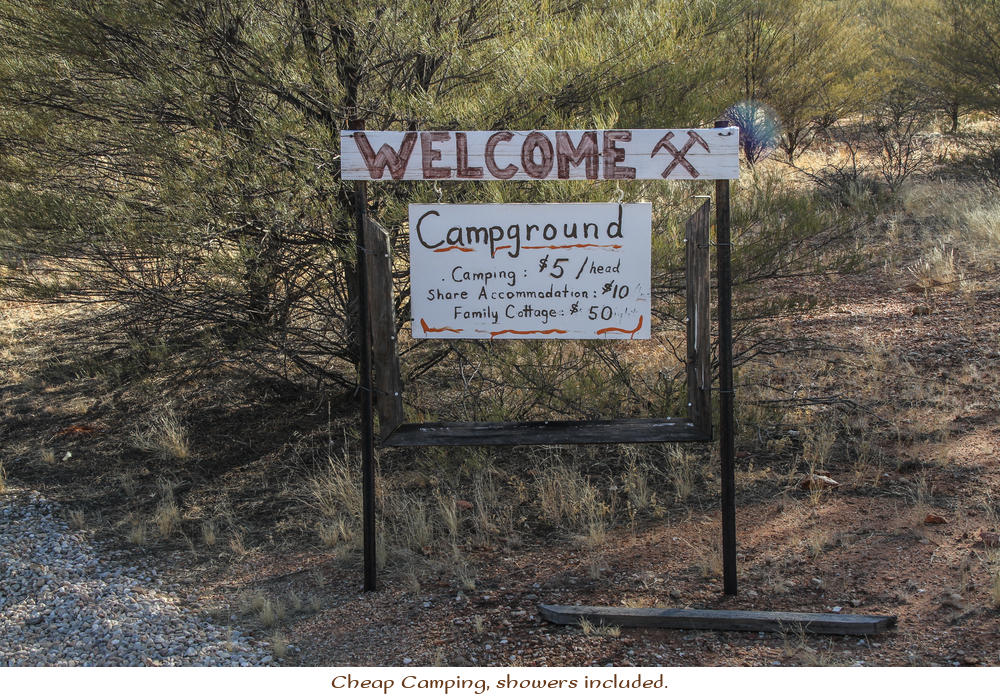 The following morning we took our time getting away. Went to check out the old Arltunga Pub now owned by the camp ground proprietor. The Front bar is completely preserved and in good condition. It can be hired for private parties but unfortunately does not have a license to sell grog, hence "The Pub with no beer" tag.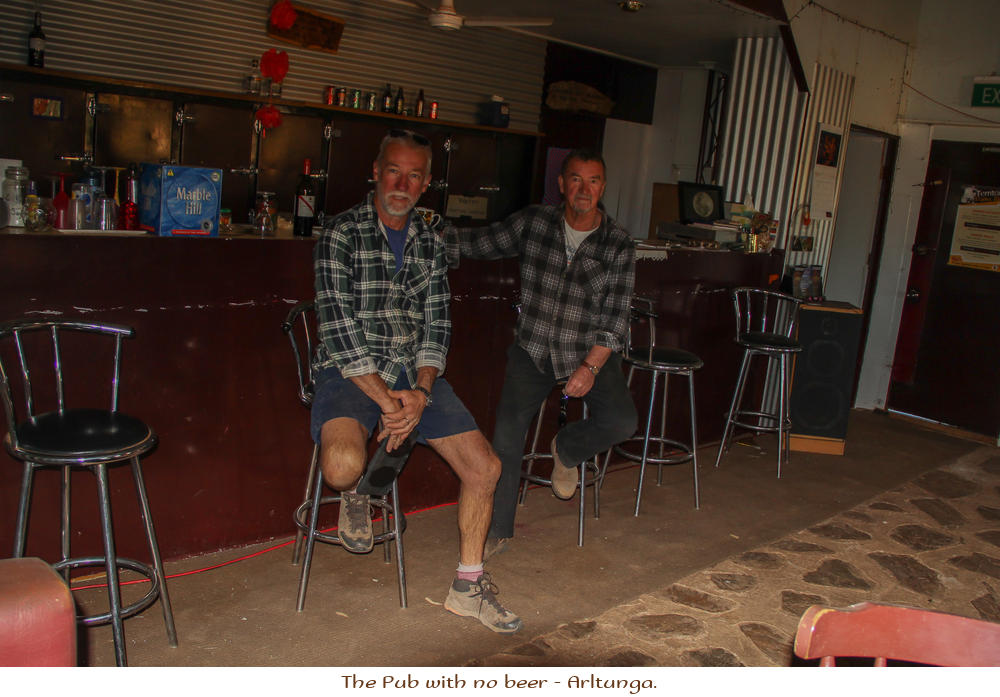 After leaving Arltunga we headed back to Alice, spent some time at the
National Road Transport Hall of Fame
and the Kenworth Museum before turning South and heading home.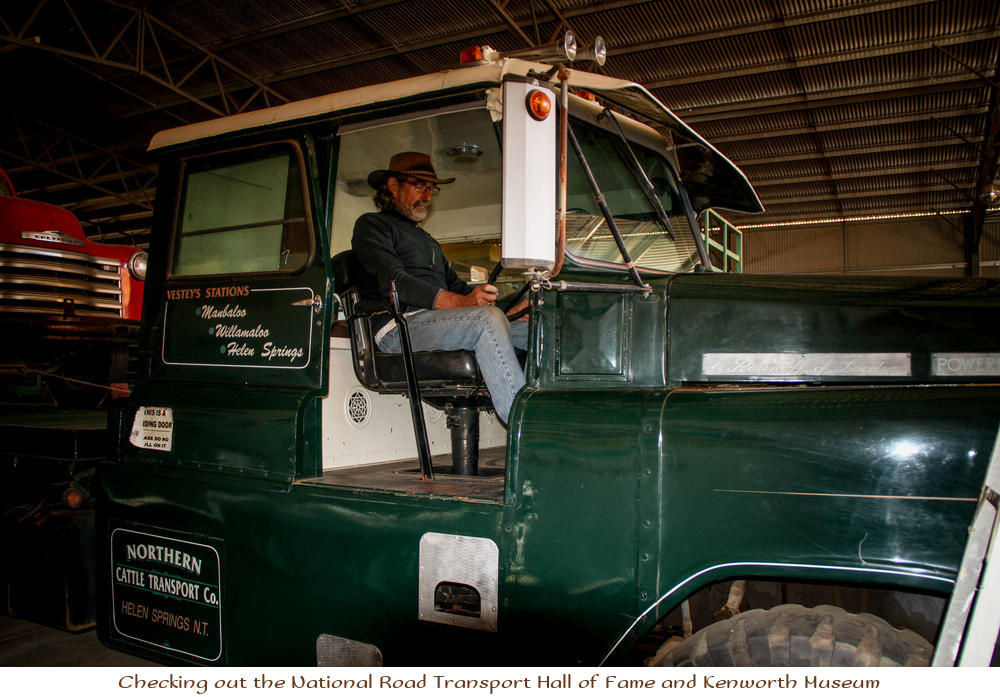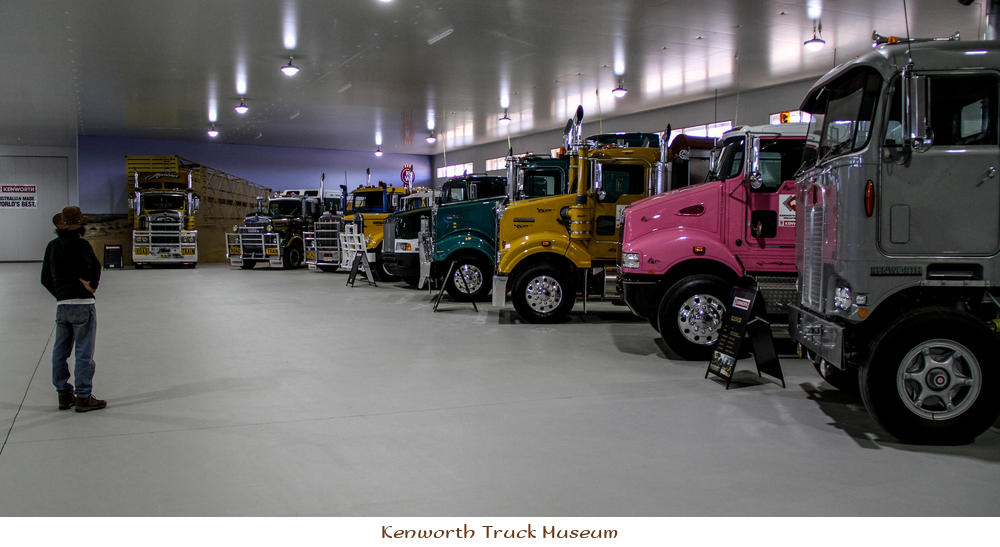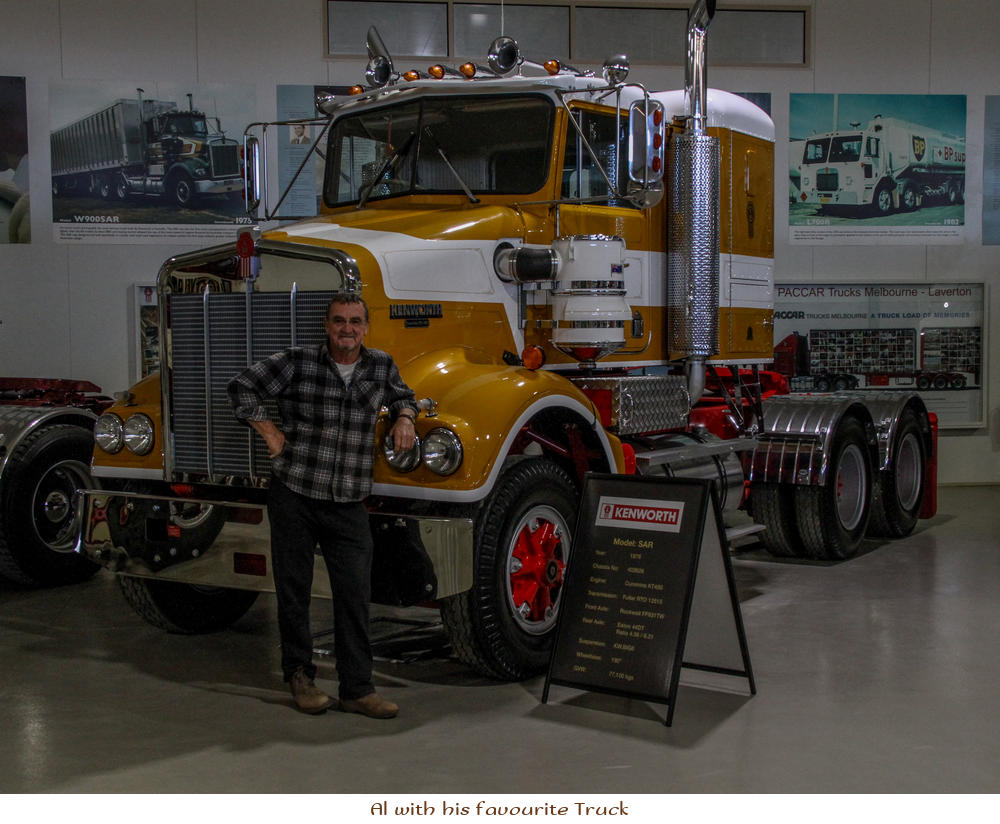 That night we camped at Stuart Wells Roadhouse which is only about 100 km from Alice. The next morning Clarkey, who was keen to get home, headed off early leaving Sabey, Al, Slip and myself to meander home at a leisurely pace. We found a bush camp with some difficulty between Marla and Cooper Pedy that night.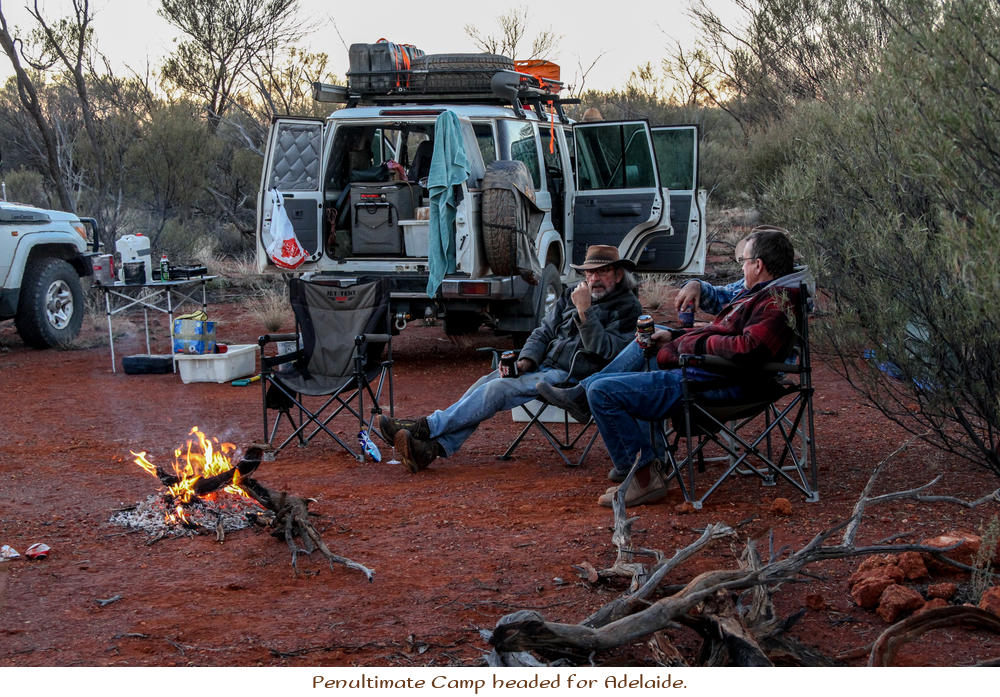 Now that we had a sniff of home we did not wander off the main road and the following night, our final night on the road, (except that Al and I still had to travel back to Melbourne from Adelaide), we camped a few km south of Pimba. Good old mother nature did not let us down for this last night of camping with a magnificent sunset.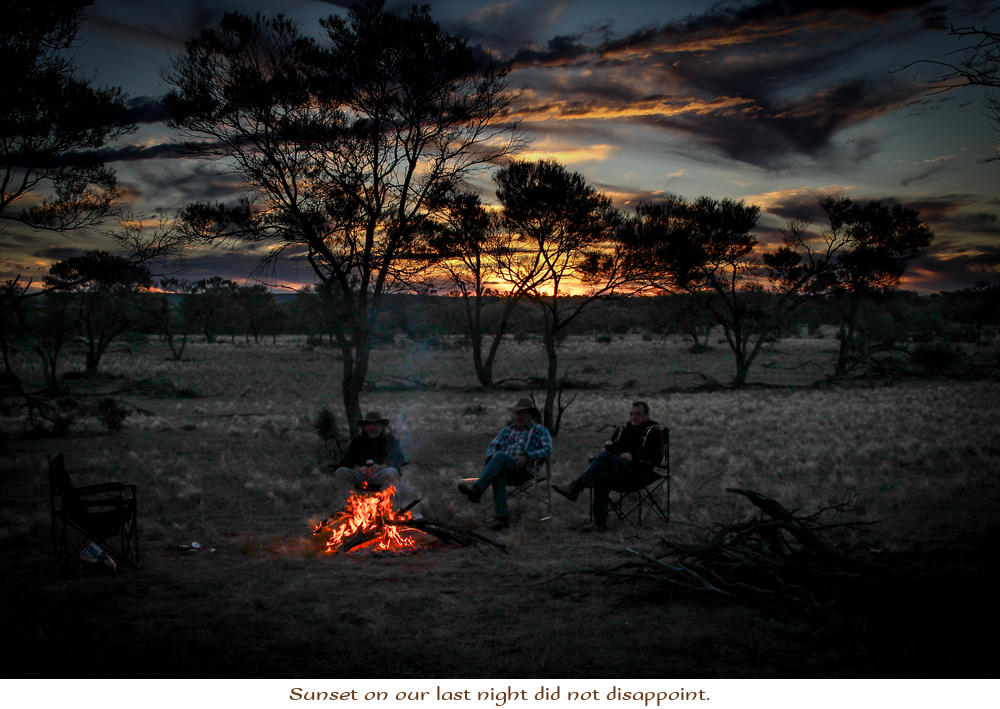 The next day we dropped off Sabey at his daughter's house in Port Pirie, then headed for Adelaide. It was now Thursday the  22nd June. Unfortunately I had to hang around in Adelaide for the weekend as my car was booked in for some minor repairs on the Monday. Al in the meantime headed off back to Melbourne and I took the Opportunity to catch up with my good friends John and Lydia in Mount Compass. Picked my car up at around lunch time Monday and set off for Melbourne, overnight-ing in Nhill, arriving home mid morning on Tuesday. The "Doin' The Canning" adventure was over.