As they say in the classic, better late than never. Just could not find time on the road to update my travel blog as I normally do. I think it can be contributed to the aging factor.
Also I would like to apologise for the length of this post however I do have a lot still to go.
We arrived home on the 15th July and have been very busy, as you can imagine, after 4 months on the road.
Well I have now gotten around to part 3 of this years adventure.
We travelled from Bremer Bay to Albany (actually Emu Beach) on the 5th of May via a lunch time stop at Cheynes Beach.

We were very conscious of the very poor weather forecast of rain and wind so set our selves up for a longer stay than we normally would. However that was not a big issue as the Albany area has an enormous number of places to visit. Subsequently we stayed for a total of 10 days before heading further west.
A Slideshow of points of interest around Albany
However the extended stay was not only attributable to the weather, but also the fact that I received advice from one of my direct debit creditors that my VISA was about to expire. So a quick call to Tom, our house sitter, to see if he had taken delivery of a new VISA card. Tom advised us that there had been virtually no mail since we departed in March. To cut a long story short, our wonderful neighbours' daughter had done what they normally do, and that is collect our mail for us. So once we sorted that out, Tom posted the new card by "express post" and we then extended our stay to ensure that we received the new card. To make matters worse Chris had misplaced/lost her card and had cancelled it, so we were looking down the barrel of no means to pay for anything. Quite an anxious wait for my card to arrive at the Emu Beach Holiday Park. Thankfully it arrived and I was able to activate and update my Direct Debits accordingly.
If you ever get the opportunity, Albany is a must visit:-
I was totally unaware of the significance of Albany and it's role in convoying our troops (along with NZ troops) to Egypt in preparation for their deployment in Gallipoli and elsewhere in WW1. A total of 38 transport ships with seven warships as escort.
The "National Anzac Centre" is awesome. You need to put 2 days minimum aside to do it justice.
On the 15th May we headed for our next destination that would give us ready access to the "Valley of the Giants" and the famous tree top walk. We found a pleasant spot at Walpole Rest Point Caravan Park. We did do a little sight seeing on the way.
As you can see the weather continued to be threatening.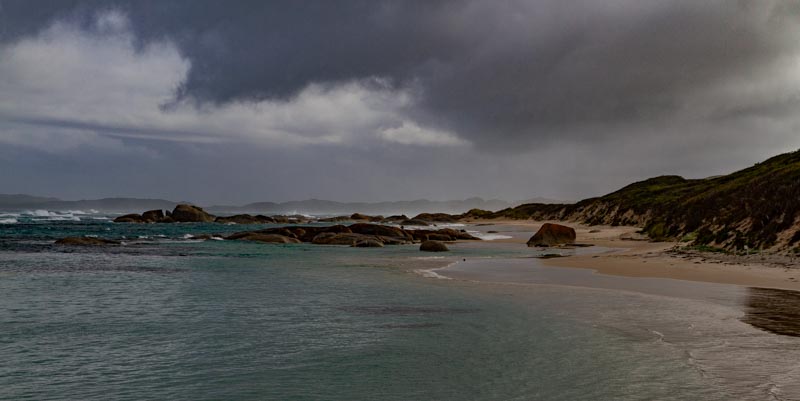 The campground in Walpole, while very basic was a very quiet and pleasant spot.
We spent 2 nights in Walpole to allow time for our visit to the "Valley of the Giants" and the tree top walk.
When we completed the tree top walk we then decided to have a browse around the Discovery Centre that was part of the Tree Top Walk infrastructure.
We were absolutely disgusted with what we found.
My email to the powers that be, suitably explains our issue.
"From: Graham Kay <grahambkay@gmail.com>
Sent: Monday, 16 May 2022 6:42 PM
To: TreeTopWalk <TTW@DBCA.WA.GOV.AU>
Subject: Tree Top walk feed back.
Today we as a group of 4, 2 experienced couples, thoroughly enjoyed our visit to start with. Absolutely fabulous until we entered the display area with the stuffed animals.
We were totally disgusted that there were feral animals displayed as if they were positive to the wildlife with no explanation of their threat to the native animals. In fact the quality of the taxidermy seemed to suggest admiration of these feral pests.
There is no justification to display these horrid pests without explanation.
This terrible display turned a wonderful experience into a very serious negative and we are appalled.
We need to educate our young and your display totally fails.
Very, very disappointed in an atrocious display.
Graham & Chris Kay




Harold & Dianne Coles

"
In reply, 10 days later, we received the following.
Good afternoon Graham, Chris, Harold

& Dianne,
After receiving your valuable feedback, we have made the decision to remove the three feral animals that were being displayed in our Discovery Centre. We are also now working on providing a more informative display.


Thank you for helping to improve our visitor's experience with the feedback you provided. As a token of our appreciation, I would like to offer you all complimentary entry on your next visit to the Tree Top Walk. Please feel free to contact me when you are planning your next visit.
Kind regards,
Pete Worthington – Acting Manager
Department of Biodiversity, Conservation and Attractions
Parks and Wildlife Service – Warren Region
South Coast Highway, Walpole, WA 6398
P. (08) 9840 8263
www.treetopwalk.com.au"
So, very happy that we appear to have made a difference.
On the 16th of May we overnighted in Pemberton then the following day headed for Margaret River.
There is a lot to see around Margaret River, not only the wineries.
I suffer a little from claustrophobia however I gritted my teeth and ventured down the 39 metres into Ngilgi Caves that are situated at Yallingup near Margaret River. I have seen a lot of caves in my travels and I reckon these caves are the pick of the lot – truly amazing.
Also in the same area is the Cape Naturaliste Lighthouse.
And Canal Rocks
On the 20th May we headed for Swan Valley (Close to Perth), did a tour into the local ranges then on the 22nd we drove up the coast to Dongara.
We then continued to head north stopping in at Geraldton for a sensational cup of coffee, ending up at Murchison River Caravan Park in Kalbarri. Kalbarri is another area in WA that has an enormous number of attractions, mainly related to Kalbarri National Park.
Kalbarri in a Slideshow – much better than text.
Next Post will be Exmouth, Coral Bay, Cape Range, Kennedy Ranges and Mt Augustus.
Map of our complete 2022 adventure.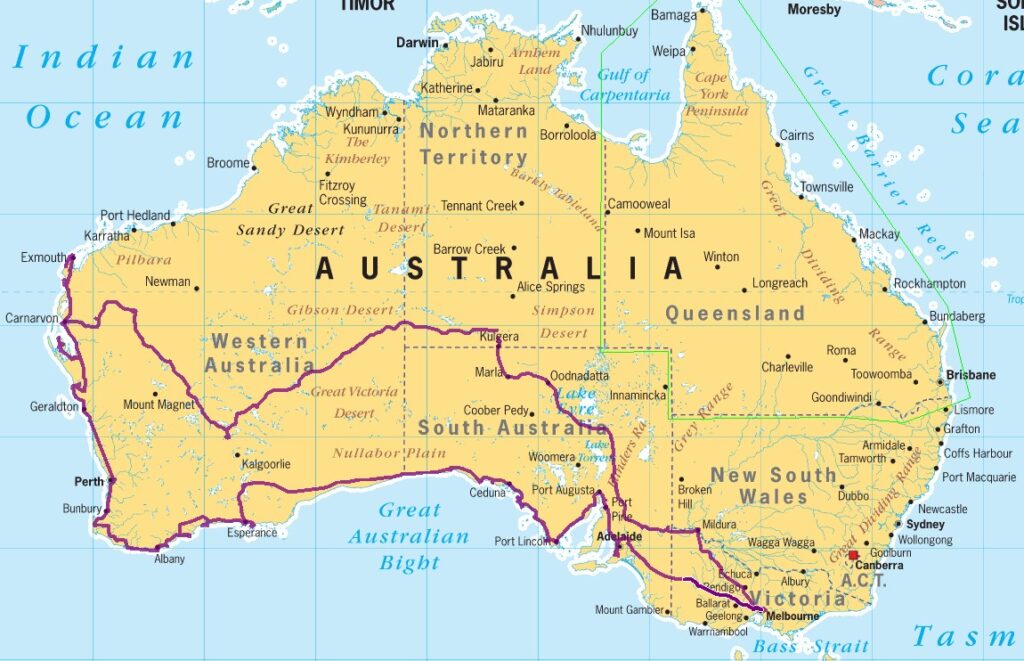 Till next time.